Hotel in Chiatura, July 8 - 10
Room in Ushguli, August 3 - 5
Campsite in Mesia, August 1 - 3
In a privat garden close to Khaishi, July 31
Mukhuri, July 30
Close to Akhalsopeli, July 29
Kizmo's room in Batumi, July 27 - 29
Tornike's house in the mountains close to Batumi, June 20
Or the day we had a discussion wether a load of shit in the corner has the potential to be art or not.

In the backyard of the Hilton Batumi, June 19
Or the day I met a Soulmate.
Two bed cabin at the ferry from Ilyichevsk to Batumi, June 17
Or 54 hours I spent with one person without any conversation at all.
At the cliffs of Sanzhiika. June 16
Or the day I got a russian rifle shell (12,7x108 mm) that has been transformed into a bottle opener as a gift from a former soldier. (There is still serious war in Eastern Ukraine)
Campsite in Odessa. June 14
Or the day I had dinner in a sanatory and left 20 UAH under my plate.
Beach in Odessa. June 13
Or the day I missed the ferry for Georgia. (Which was actually not bad after all)
Hostel in Odessa. June 12
Or the day I decided to avoid hostels from now on. (Same stories and conversations no matter where you are)
In the border zone between Moldova and Transnistria. June 11
Or the day I overcame my fear of dogs.
Hotel in Chișinău, June 10
Close to Dankivtsi, July 7
Close to Ridkivtsi, July 6
Mikhail's home in Sniatyn, July 4
Vasyl's Container in Dobrotiv, July 3
Close to Kolochava, June 29
Hotel in Synevyrs'ka Polyana, June 28
Close to Pylypets, June 27
Close to Poroshkovo, June 26th
Vladimir's garden in Michalovce, June 24
Viktor's and Martin's appartment in Kosice, June 23
Alex' Couch in Kosice, June 22
Pension Marianna in Smolnik, June 20
Close to Jelšava, June 18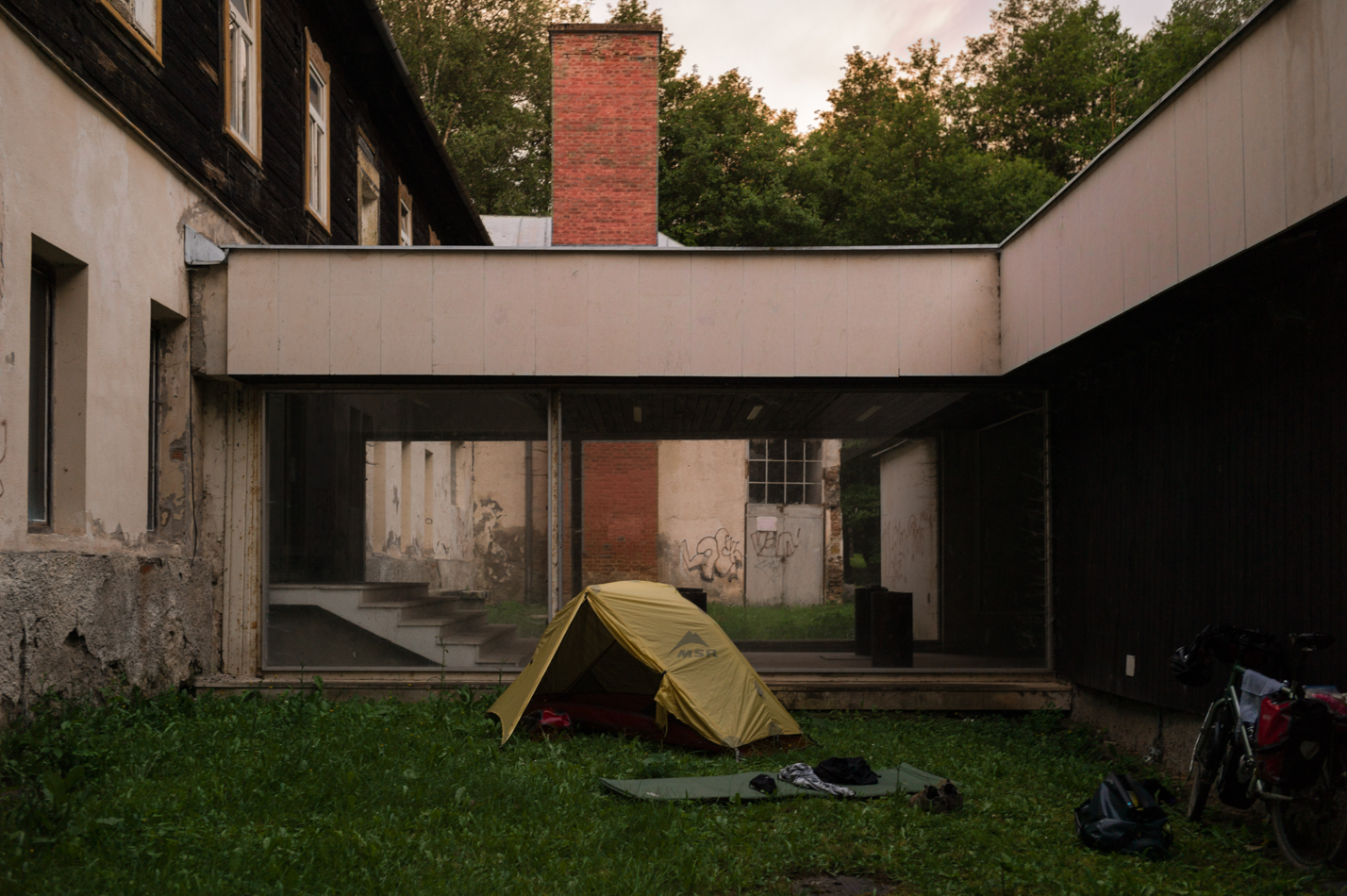 Abandoned Spa in Brusno, June 17
In the mountains close to Vricko, June 16
Iva's and Jaro's home in Považská Bystrica, June 13
Pavol's garden in Cachtice, June 12
Illah's and Simon's home in Bratislava, June 11
Close to Leusheri, August 5
Ivan's home in Bratislava, June 10
Kvemo Zhoshkha, August 6
Country house near Gobelin, June 9th